United for translating rights into action NOW!
OIKKO (unity)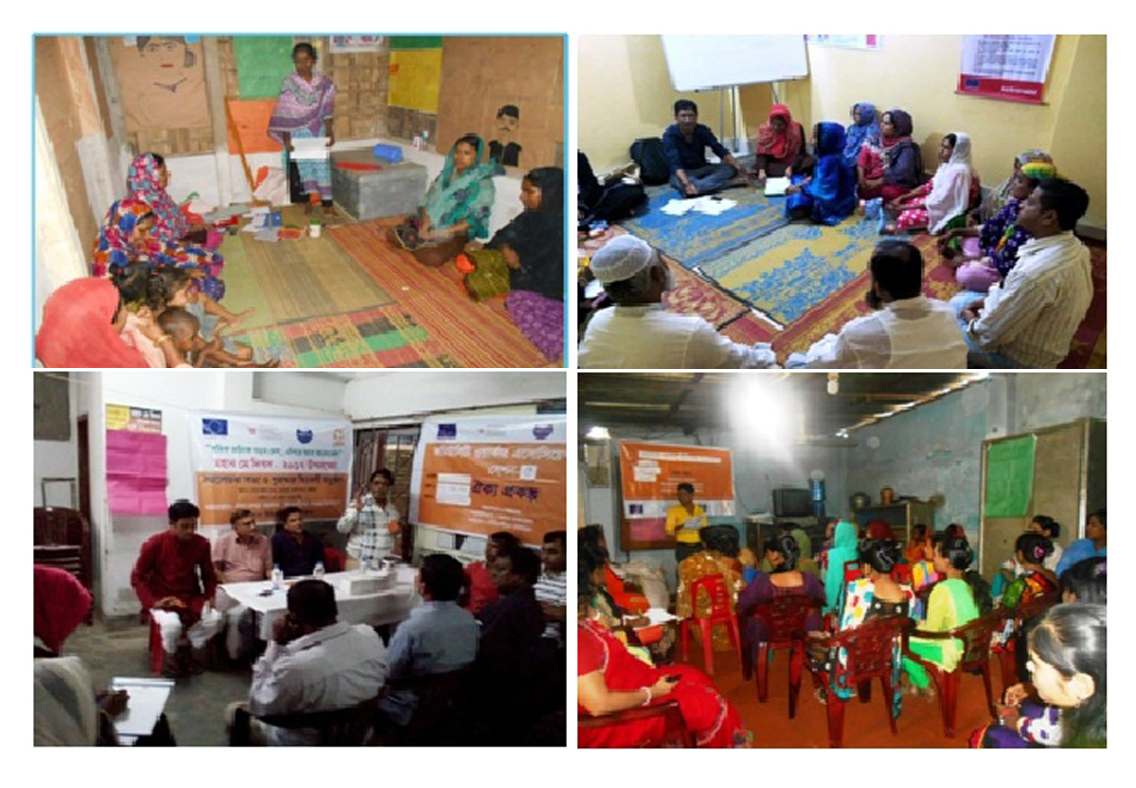 The OIKKO project ('unity' in Bengali language) contributed to the realization of fundamental rights of workers in the Bangladesh ready-made-garment (RMG) industry. The action empowers female factory workers and strengthens labour right actors, from the grass-roots level up, to join forces for promoting the enforcement of the new labour law from July 2013 and for pursuing further reforms in the sector. The action aims to address the limited influence civil society has had to date on compliance, respect for workers' rights, and workplace conditions in the RMG sector, and bridge the disconnect between workers and their representatives. 
Overall objective : A strong and united civil society promotes the implementation of fundamental labour rights in the ready-made garment (RMG) sector in Bangladesh. 
Specific Objective:
Trade unions and federations better fulfilling their role in representing workers and collective bargaining (as defined by workers, e.g. membership, services, accountability).
Female right activists holding union leadership positions and decision-making power.
Joint civil society initiatives have held government and factory owners accountable.
Target Beneficiary : Our direct beneficiaries are the RMG women workers 960 (Ekata members) and on the other hand, 3840 RMG co- workers are our indirect beneficiary RMG sector , family & Community.
ACTIVITY :
32 EKATA Centre conducted sessions among 4 areas in Chittagong OIKKO Project. At present, they conducted session the detail information about sessions are following- number sessions conducted out of 84 where achieved conducted session averagely  77 days out of the session conducted by Peer Facilitator. The reason of low session,  the most of session have been completed within Time.  In this cluster, project participants worked through production basis in sweeter factory. Accordingly name of awareness session in Kotwali, Baizid, Halishahar and EPZ has also been completed 12 sessions on communication, gender, child marriage and socialization, leadership. As a result EKATA groups more clearly and understanding enhanced Knowledge labour rights, Life skill, raise their Collective bargaining & build up women's leaders. Project participants raised voice for their rights and entitlements. Project participants are searching on self sufficiency and independently Eagerness to income generating skill training Project participants are more clear and understanding about tools and why they were involved in this process.
Eagerness to receive services from health, legal in Friday or after evening when project participants comeback from factory, Want to solve family problems by themselves.
Formation of Women Workers Solidarity Groups ( Agrajattra):
Workers need to raise their voice and claim their rights together. Rights, especially for female RMG workers cannot be ensured without their participation in structures like trade union, federation, Participatory Committee.  But, lack of opportunities to go to the decision making role and enhance the leadership capacity holding female RMG workers back.  Empowerment of female factory workers and strong labour right actors, from the grass-roots level up, can pursue for further reforms of the sector.
Overall Objective of the project is "A strong and united civil
society promotes the implementation of fundamental labour rights in the ready-made garment (RMG) sector in
 Bangladesh". Specific Objective of the project is
 "To strengthen the capacity of labour rights actors and increase the voice and influence of female garment workers".
During the period a total of 35 sessions were conducted for the members CWAs. The topics covered in these sessions are trade union formation, Visioning & sustainability of CWAs, action plan for sustainability, occupational Helath and Hksd health and safety committee.  CWA leaders were the co-facilitators with the project staff in the CWA sessions. Of the sessions, 35 arranged in Chittagong and total participant number was 10393.
Link Service providers with CSGs: The project also continued to work to link service providers with CSG members to ensure the service available in the community and solve service related challenges (i.e. place, timing, support, mobilize the people) in the community. CSG member has attended in the service linkage meetings of Chittagong which more to ensure community support to make service providing activities smoother in the community.
Arrange Community Support Group Meetings: Meeting with community support groups (CSGs) was ongoing in this reporting period. In the project period arranged 9 meetings with support groups where total 531 participants (334 female and 197 male) have participated. These meetings were mainly on relation build up between CWA leaders and CSG members, awareness on workers right in the community, sustainability of the CWA groups. The CSG members expressed their support to the CWA groups and will continue their support to arrange meetings of the CWA groups by providing venue after end of the project. Also the CSG members said that, they are continue support CWAs to address their problems in the community and factory. As a result reduced the family problem, minimize the problem of rental house, getting low cost treatment, get additional bank support in week end.
Meeting of Trade union leaders and CWAs: The project has arranged a meeting with leaders from  12 federations participated in meeting arrange in Chittagong with CWA leaders of  4 area  in the  period. In these meetings the CWA leader came to know about the federations, their functions, strength which will help them to choose the better federation to become the member.  Also the federation leaders have got the base/network in the community to motivate female RMG workers to join their trade unions/federations.
Impact  of the project :
3840 garments workers (about 99% women) have a good understanding on salient features of Bangladesh Labor Law 2006, and claiming their rights accordingly.
04 (high Potential Ekata member) Community Worker Association (CWA) functioning and assist the respective CWA by management in improving the compliance status in the factory.
4 Ekata Platforms of high potential women's leaders organized, capacitated, & linked with Trade Union & service Provider
Two (2) CWA (Halisahaor & Baizid) functioning & Submit to Govt. Registration.
Workers in need of law enforcement support receive adequate advice and help (about 70% of all reported cases are satisfactorily solved)
43 Ekata member (potential) joining the Local Trade Union, Federation at Chittagong.
960 Ekata members by reached & inspired 3840 co-worker in RMG sector, family & community.
Outcome/Result of the project :
100% cases In which Ekata members collectively resolved an issue (with or without of help of their support group) (at Least 1 case one Ekata Group).
80% change of rights–related information sharing with co workers family or community members.
38%  Ekata leaders joining in, engaging with, or setting up a trade union of federation.
12 Trade unions & federations (Chittagong) capacitated leaders and members to represent workers interest, deliver services & collectively bargaining.